Energica Ego + RS Tricolore
£27,437.00
Reserve this Energica Ego + RS Tricolore for £99
To reserve this bike today, you can place a fully refundable deposit of £99. Simply click one of the buttons below to place a one time secure deposit via PayPal or your credit / debit card.
Model Description
The world is turning to electric. And you can still have fun, lots and lots of fun.
Still the world's most powerful and advanced electric motorcycle that gives 1000cc bikes a run for their money. Without emissions.
The Energica EGO burst on the scene at EICMA in 2013. It was then a culmination of years of electric racing competition, with numerous victories including the 2010 European Championship during the first zero-carbon TTXGP competition and runner-up for the 2011 TTXGP World Championship.
In 2018 Dorna selected Energica to be single manufacturer for the FIM Enel MotoE™ World Cup through 2023. These all-electric races at iconic MotoGP circuits all over Europe feature 12 international teams, fielding 18 race pilots on identically prepared EGO Corsa racing machines. As a result, we'll have four additional years of intensive technical development at the highest possible level for performance and sophistication of any electric motorcycle in the world.
In 2019 we launched our 21.5 kWh battery platform to the public, adding to our original and unique features of superb power, top speed and DC Fast Charging with the longest range of any electric motorcycle you can buy. The "RS Version" upped the ante with even better acceleration than ever before.
With the new EMCE motor and inverter we did it again – adding not only power but 10% range at higher speeds.
Best performance ever
With an impressive acceleration ranging from 0 to 100 km / h in 2.6 seconds and a maximum speed limited to 240 km / h, the flagship of the Energica brand is pure adrenaline.
The EMCE motor and inverter is 10 kg lighter yet pumps out up to 169 peak horsepower; increases range from 5% to 10% according to riding style with a maximum of 261 City miles; and substantially reduces maintenance with service intervals stretching from 10,000 km at present to 30,000 or 45,000 km – three to four times less than before.
Ex Demo with less than 200 miles – Save £3500 on new price. RRP £30,937… Our Price £27,437
Delivery to any UK mainland address for only £175
Full Specification
Make:

Energica

Model:

Ego + RS

Colour:

Tricolore

Year:

2022

Registration:

WG22KKA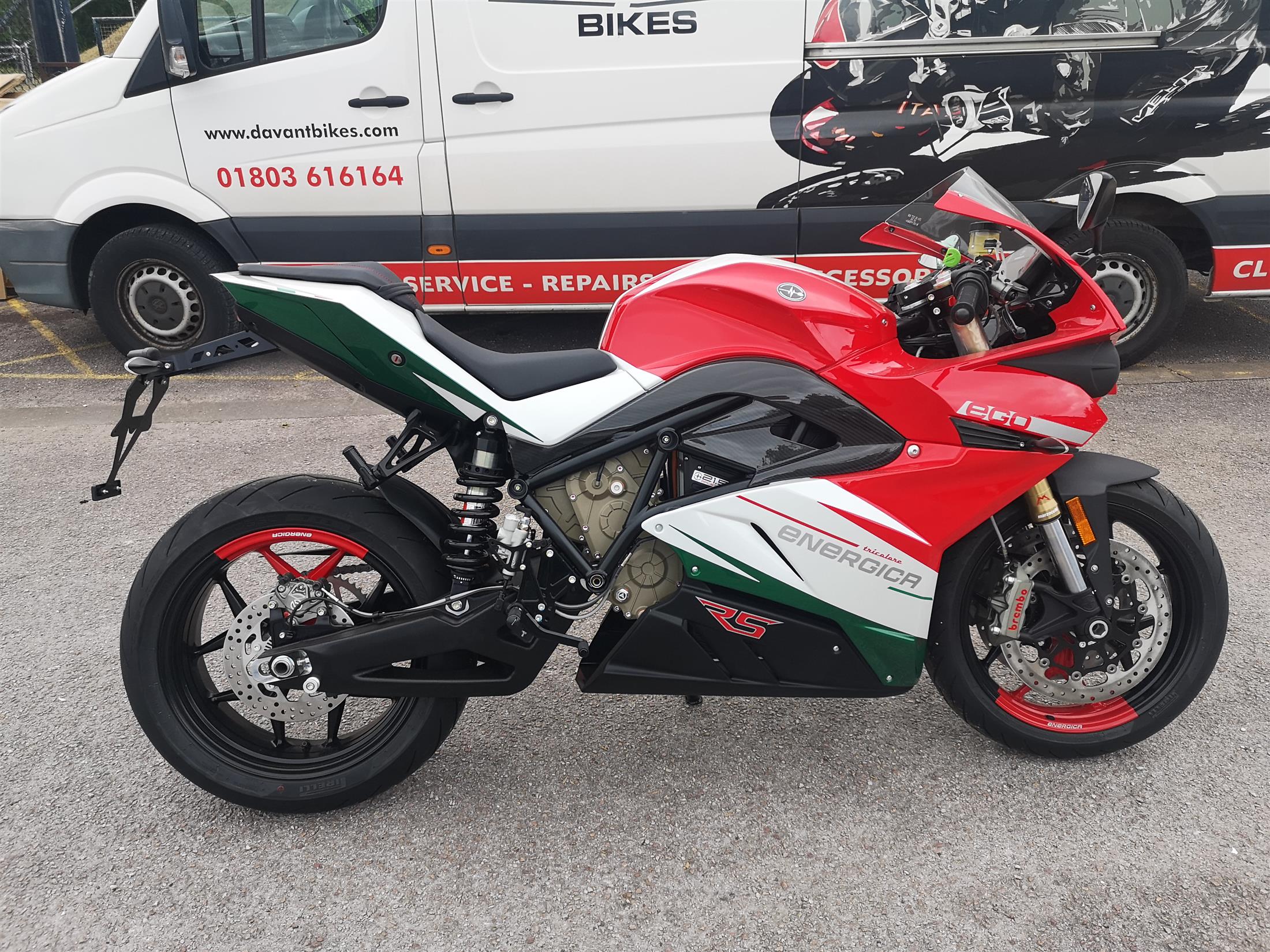 Brand Name
Product Name
Price
Product Availability