SUZUKI DISPLAYS NEW COLOURS FOR 2020 AT MOTORCYCLE LIVE
Suzuki has displayed new colours for its 2020 model range at Motorcycle Live, which is currently taking place at Birmingham's NEC.
The GSX-S1000 super-naked – which uses the legendary GSX-R1000 K5-derived engine packed with grunt and character, housed in a lightweight twin-spar aluminium chassis and kept in check by a three-mode traction control system – comes in a new grey and matt black for 2020, set off by dark red accents and matching wheels, alongside a white version with blue detailing, and a MotoGP-inspired blue.
The same white and blue colour schemes are also available on the GSX-S750 and leaner-friendly GSX-S125. The 750 can also be had in a striking white, black, and dark red option, while the 125 is available in a standout matt grey and black. Both get red wheels.
An all black version of the GSX-S1000F – which adds a wind-cheating fairing and screen to the GSX-S1000 package to create the comfy sports bike – will be available in 2020, along with a blue and black variant and white version with subtle blue graphics.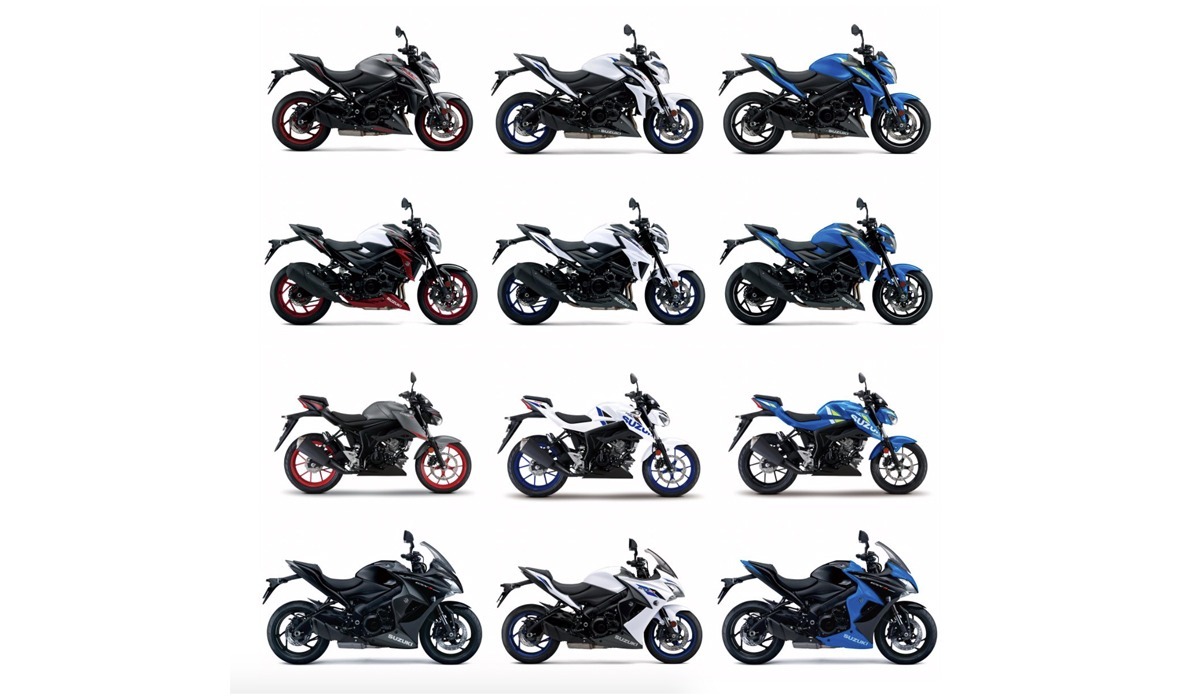 Three MotoGP-inspired liveries on the GSX-R125 – the race replica blue with white SUZUKI lettering, an inverted white with blue lettering, and a black with red lettering – match the liveries of the 2020 GSX-R1000R.
The GSX-R1000 also comes in the MotoGP blue, but is joined by a white and black version and an all-black edition.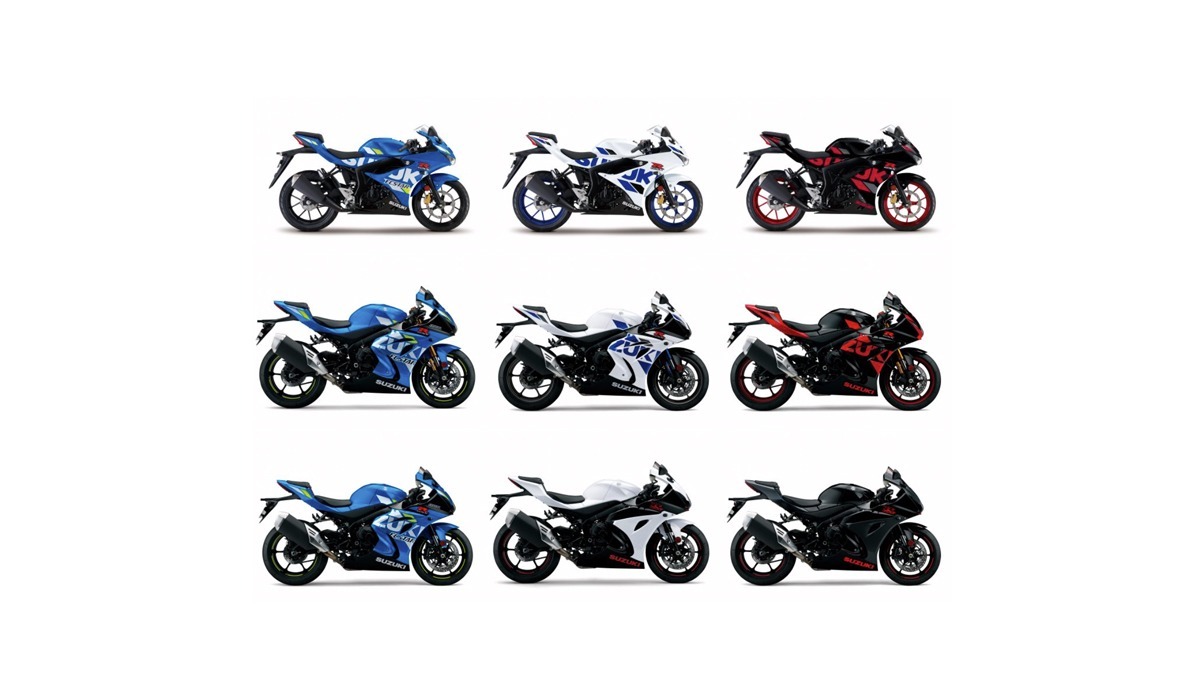 Off the back of launching its new V-Strom 1050XT and V-Strom 1050 at Eicma earlier this month, Suzuki has updated the colour options on the V-Strom 650XT and V-Strom 650 middleweight.
The more off-road focussed XT gets a revised version of the firm's motocross yellow with gold spoke wheels. A black model gets the same rims, while a blue version uses black wheels.
Three colour schemes for the V-Strom 650 include a white, black, and solid grey.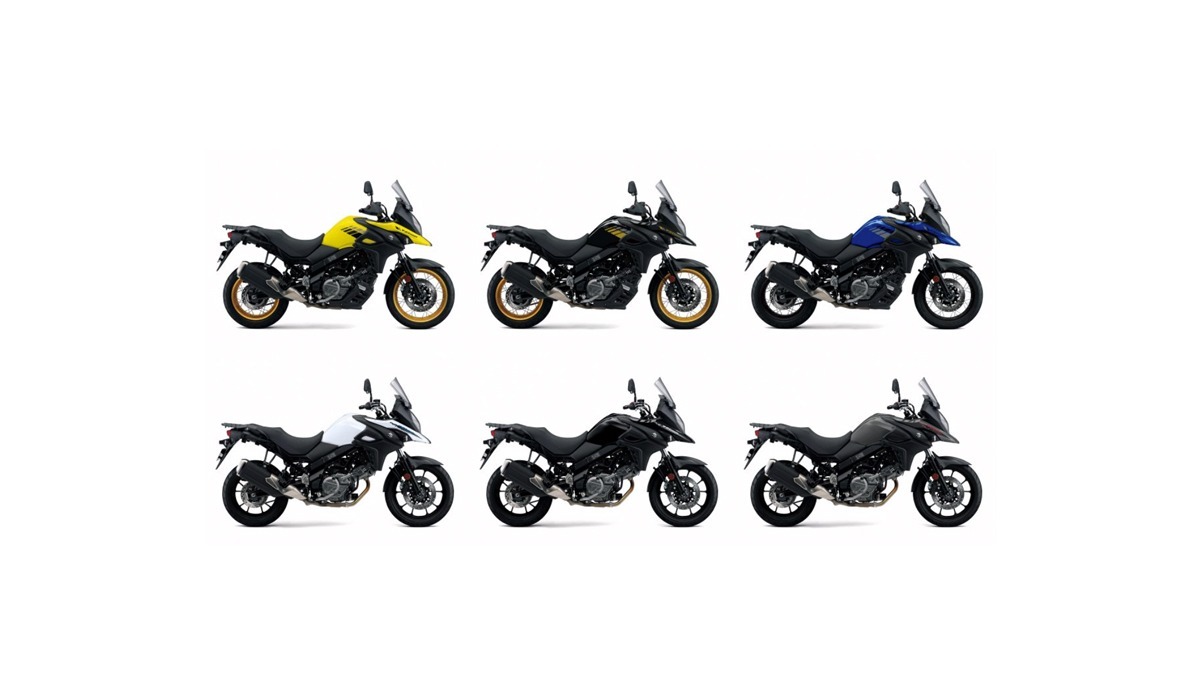 Suzuki's scooter range – which includes the Burgman 400, the original maxi-scooter – also gets new paint. The Burgman 400 can be had in white or black with classy dark blue wheels, or dark blue with black wheels.
White and silver are the options available for the Burgman 125 and Burgman 200, while the congestion-busting Address comes in a royal blue or dark blue, or gloss white.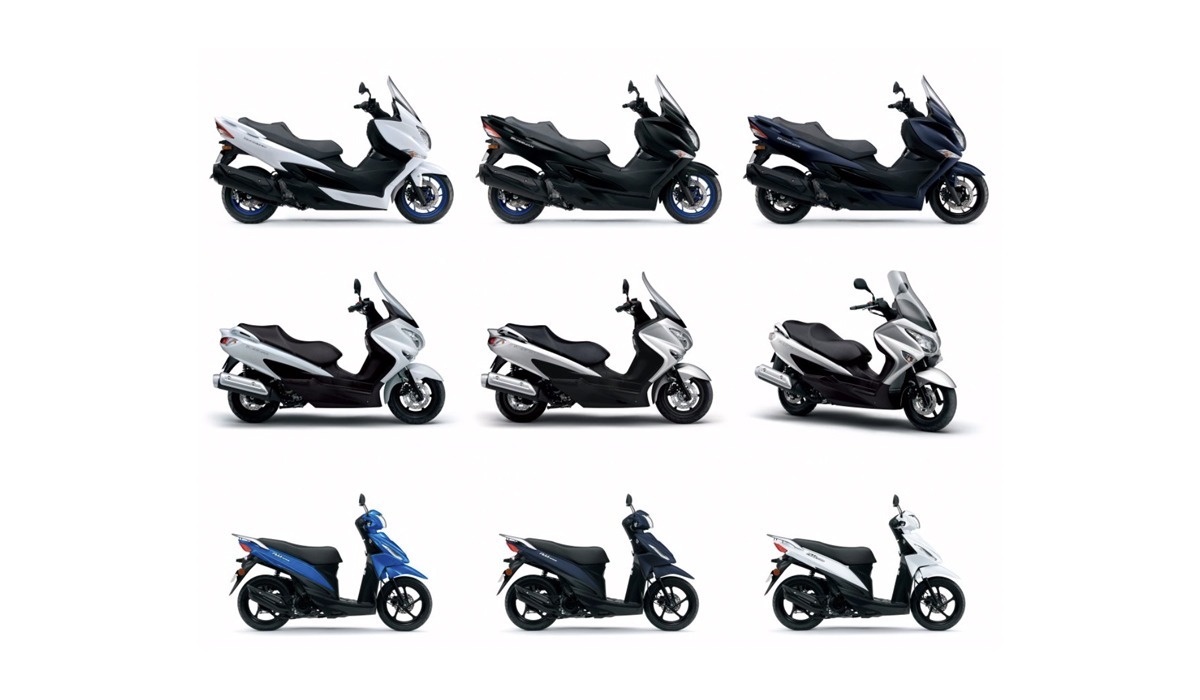 2020 colours for Suzuki's SV650 include a metallic silver and blue trellis frame, a matt black version uses a similarly striking red frame and wheels, while those looking for a more understated SV650 can opt for a gloss black model with black frame and wheels.
The café racer-inspired SV650X comes in black with a brown ribbed seat.